SiCKO Required Reading: U.S. Health Care by the Numbers
Michael Moore's controversial film SiCKO opens nationwide this weekend. Hailed by critics and widely praised across much of the political spectrum, Moore's look at the failing American health care system is already generating the predictable smear campaign from the insurance industry, the pharmaceutical lobby and their allies on the right.
But before the inevitable discussions about the accuracy of the film's portrayal of the U.S. health care system and the plight of insured middle class American come to dominate the airwaves, you can make up your own mind. Perrspectives has reached into its archives and combed through other recent research to produce a quick look at the U.S. health care morass by the numbers. The summary below includes comparisons of the American health care system relative to other countries and between the states, data on the uninsured, rising health care costs, the woes of Medicare and Medicaid and more:
Comparing U.S. Health Care Performance Internationally
In SiCKO, Michael Moore famously points out the United States ranks 37th among 191 nations in health care, just behind Slovenia and two slots ahead of Cuba. (Sadly for conservatives, France was rated #1 in the 2000 World Health Organization study.).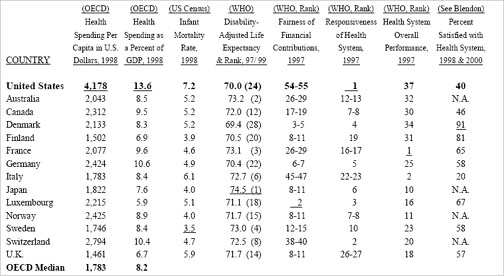 No doubt, recent global comparisons tell the tale of the relative failure of the United States to ensure the health of its people.
In May 2006 ("The Health of Nations"), Perrspectives looked at two studies showing that Americans are much less healthy than their Canadian and British counterparts. The U.K. and Canadian national health systems, emphasizing preventive care, appear to provide much better outcomes at dramatically lower cost than the ad hoc market-driven approach in the U.S.:
A Harvard Medical School study in the upcoming issue of American Journal of Public Health reveals that Americans experience suffer from a range of ailments and diseases at substantially higher levels than our neighbors to the north. Phone surveys of 3,500 Canadians and 5,200 Americans showed Americans 12% more likely to suffer from arthritis, 32% more likely to be plagued by high blood pressure and a whopping 42% more likely to have diabetes. Despite spending nearly double on health care per capita and smoking less than Canadians, the Harvard study revealed that Americans experience "higher rates of nearly every serious chronic disease examined in the survey."
The study also dispels many of the negative myths perpetuated by American conservatives regarding a lumbering, unresponsive Canadian health care bureaucracy. Harvard's Karen Lasser noted that "most of what we hear about the Canadian health care system is negative; in particular, the long waiting times for medical procedures." The data simply does not bear that out; while Canadians much more frequently reported long waiting times as a barrier to care (3.5% to 0.7% for Americans), treatment delays were not a major factor for either nation.
The Canadian results follow closely on the heels of major study published in the Journal of the American Medical Association (JAMA) similarly showing Americans' dismal health compared to their British friends across the Atlantic.
Americans reported twice the rate of diabetes compared to the English: 12.5 percent versus 6 percent. For high blood pressure, it was 42 percent for Americans versus 34 percent for the English; cancer showed up in 9.5 percent of Americans compared to 5.5 percent of English.
Other reports similarly reflect the abysmal performance of the U.S. health care system compared to other leading industrialized nations. Last week, a 2003 Commonwealth Fund report showed that the U.S ranked last across virtually every category of health care cost, access, efficiency, quality and lifestyles compared to Australia, Britain, Canada, Germany and New Zealand:
A 2006 Commonwealth Fund study ("U.S. Health System performance: A National Scorecard") of 19 industrialized nations ranked the U.S. 19th in infant mortality, 15th in preventable mortality and 14th in the use of electronic medical records, all despite spending far and away the greatest percentage of GDP on health care. Relative to other comparable countries surveyed, the U.S. has the greatest incidence of medical and prescription errors, highest emergency room waiting times and ranks near the bottom in duplicate medical tests. The U.S. spends 7.3% of its health dollars on administration and insurance, compared to just 1.9% in France, 2.6% in Canada, and 3.3% in the UK.
Comparing Health Care Performance by State
Two weeks ago, Perrspectives looked in depth ("Health Care the Latest Red State Failure") at another Commonwealth Fund report which revealed that Americans' health care varies dramatically from state to state. It should come as no surprise that in general Southern states ranked at the bottom in almost every category.
The Commonwealth Fund report, "Aiming Higher: Results from a State Scorecard on Health System Performance," examined states' performance across 32 indicators of health care access, quality, outcomes and hospital use. Topping the list were Hawaii, Iowa, New Hampshire, Vermont and Maine. Bringing up the rear were the Bush bastions of Kentucky, Louisiana, Nevada, Arkansas, Texas, with Mississippi and Oklahoma. The 10 worst performing states were all solidly Republican in 2004.
The extremes in health care performance are startling. For example, 30% of adults and 20% of children in Texas lacked health insurance, compared to 11% in Minnesota and 5% in Vermont, respectively. Premature death rates from preventable conditions were almost double (141.7 per 100,000 people) in Tennessee, Arkansas, Louisiana and Mississippi compared to the top performing states (74.1 per 100,000). Adults over 50 receiving preventative care topped 50% in Minnesota compared to only 33% in Idaho. Childhood immunizations reached 94% in Massachusetts, compared to just 75% in the bottom five states.
As the report details, federal and state policies, such as insurance requirements and Medicaid incentives, clearly impact health care outcomes. Importantly, equalizing best practices and funding levels across all 50 states would save as much as $38 billion - and up to 90,000 lives - per year.
The Uninsured
Moore's film focuses not on the 44 million uninsured Americans, but on those millions more with insurance who encounter denial of coverage every year. It's no wonder that medical-related expenses are far and away the leading cause of bankruptcy in the United States.
Still, the sheer number of uninsured Americans is staggering. The Centers for Disease Control reported just last week that almost 44 million Americans (14.8%) are without health insurance. Among working age Americans (18-64), the figure reaches a mind-numbing 19.8%. Worse still, 54.5 million Americans were without coverage for at least part of 2006. Among the largest states, Michigan was the best performer, with only 7.7% of its residents lacking coverage, compared to 23.8% for cellar dweller Texas. The only bright spot concerned medical coverage for children, where expanded public programs such as SCHIP have dropped the ranks of uninsured kids from 13.9% in1997 to 9.3% in 2006.
It is worth noting that the Census Bureau recently changed its method for calculating the number of Americans without insurance and has not yet revised figures before 2005. For some historical context, the Census Bureau reported that 46 million Americans, almost 16% of the population, were without health insurance in 2004. That is a staggering increase from 40 million (14.2%) in 2000 and 32 million (13%) back in 1987, when the Bureau began tracking coverage.
Rising Health Care Costs
Back in December 2005 ("Unhealthy Trends"), Perrspectives looked at the rapid rise in U.S. health care costs. Coupled with the massive shift of insurance programs from employers to employees, working Americans are being buffeted by a double-dose of health care pain that is dramatically impacting their standards of living. As I wrote in "Unhealthy Trends" 18 months ago:
The looming crisis is much larger than just the steep decline in companies providing health care benefits to their employees. (According to the Kaiser Family Foundation, only 60% of companies now provide health coverage for their employees, down from 69% in 2000.) In just the last several weeks, Ford and GM joined the growing list of American companies cutting back on health care benefits for their employees, retirees and their families.
The prospects for the future are just as bleak. According to a survey by Mercer Human Resource Consulting, employer health care costs are forecast to jump by 10% in 2006. The firms surveyed, however, are only budgeting a 6.4% increase in spending for medical coverage, passing the rest of those costs onto employees in the form of flexible spending plans featuring higher deductibles, higher co-payments and greater constraints on coverage.
The Malpractice Myth
Among the favorite canards of President Bush and the Republican Party is the claim that out-of-control, frivolous malpractice lawsuits are driving up health care costs and driving doctors from practice. As with so much that passes for policy in the Bush administration, the claims bear little relationship to reality.
As I wrote in the 2004 piece "The Trial of John Edwards," numerous studies have consistently shown that increasing damage awards from malpractice explain only a portion of the rapid rise in health care costs. A January 2004 study by the Congressional Budget Office (CBO) found from 1986 to 2002, malpractice insurance premiums jumped 15% per year, while the average damage award rose only 8% ($95,000 to $320,000). The jump in malpractice premiums has been almost double the rate of increase in health care costs per person, and roughly four times the rate of inflation. The CBO report also points out that "although the cost per successful claim has increased, the rate of such claims has remained relatively constant. Each year, about 15 malpractice claims are filed for every 100 physicians, and about 30 percent of those claims result in an insurance payment." As the CBO concludes, GAO data shows that about half of the increase in doctors' malpractice premiums is due to the drop in annual investment returns by the top 15 insurers. Recent low profit rates and market consolidation among insurers is creating additional upwards price pressure.
The myth of rapacious trial lawyers and their greedy clients filing baseless malpractice claims was also shattered by May 2006 study from the Harvard School of Public Health. The report, which appeared in the New England Journal of Medicine, exhaustively examined 1452 medical malpractice cases "to determine whether a medical injury had occurred and, if so, whether it was due to medical error." In a nutshell, the study found that by and large the American system of medical personal injury compensation works, with valid claims receiving compensation and frivolous ones not:
Most of the claims that were not associated with errors (370 of 515 [72 percent]) or injuries (31 of 37 [84 percent]) did not result in compensation; most that involved injuries due to error did (653 of 889 [73 percent]). Payment of claims not involving errors occurred less frequently than did the converse form of inaccuracy - nonpayment of claims associated with errors.
If anything, the data show that the United States may have too few malpractice legal actions, rather than too many. In 2003, the Institute of Medicine of the National Academies issued a devastating report detailing the scope and gravity of the safety of the U.S. health care system. Two studies showed that "at least 44,000 people, and perhaps as many as 98,000 people, die in hospitals each year as a result of medical errors that could have been prevented."
In 2005, Tom Baker, director of the Insurance Law Center at the University of Connecticut School of Law, produced a powerful rebuttal to the Republican scare campaign in The Medical Malpractice Myth. His analysis supports the CBO's conclusion that insurance underwriting cycles, and not more malpractice lawsuits or larger damage awards, are largely responsible for the increase in physicians' insurance premiums. Similarly, malpractice lawsuit account for only a small fraction of the increase in health care costs. Baker provides extensive data to show that only a small fraction of medical errors and injuries result in malpractice litigation. And contrary to another aspect of malpractice mythology, juries generally favor doctors in malpractice outcomes, not the injured plaintiffs. Baker's analysis also suggests that President Bush's assertion that "lawsuits don't heal patients" notwithstanding, they no doubt prevented countless other deaths and injuries. And only in certain geographic areas and medical specialties is there some truth to President Bush's famously garbled claim that malpractice suits are driving physicians out of the business:
"Too many OB/GYNs aren't able to practice their love with women all across this country."
Medicare and Medicaid
Perrspectives has also looked into the troubled Medicare and Medicaid programs. In "Medicare's Prescription for Failure," I detailed the history of a Medicare prescription drug program designed not to help American seniors, but to preserve both the private insurance market and the Republican majority in Congress. The result is a program who projected cost has almost doubled since it was passed n December 2003 while still failing to offer drugs at prices anywhere near the levels found in Canada, Veterans Affairs programs or even at near-wholesale resellers like Costco or Drugstore.com:
These ominous signs for the new Medicare prescription benefit should come as no surprise to the Bush administration. After all, President Bush initially opposed the program. In January 2003, CBS News reported that "a recent description of the proposal in government documents envisions 'no prescription drug coverage' for people in traditional fee-for-service Medicare." Instead, the Bush White House in 2003 wanted Medicare beneficiaries seeking prescription drug coverage to join some type of government-subsidized private health insurance program.
Ultimately, though, President Bush caved to overwhelming public pressure - and the demands of reelection in 2004 - for a prescription benefit as part of the traditional fee-for-service Medicare program. His support, however, came at a steep price.
For starters, the White House insisted that the final December 2003 Medicare Drug bill prohibit the government from negotiating prices directly with drug companies, a key demand of the pharmaceutical lobby. The same price leverage enjoyed by the Veterans Affairs Department and its program beneficiaries was surrendered by Medicare, with the predictable results described in the House report this week. In another poison pill added by the insurance and pharmaceutical lobbies, the Medicare Prescription Drug Modernization Act beginning in 2010 provides subsidies to private insurers to compete with traditional Medicare.
Perhaps even worse, a White House desperate for an election year win on Medicare deliberately misrepresented the program's costs in order to ensure passage. On December 8, 2003, President Bush rolled out a program he claimed would cost $400 billion over 10 years. Within two months, however, the White House notified Congress that the real price tag would approach $550 billion. When Medicare actuary Richard Foster sought to present the true price tag to Congress in late 2003, then agency chief Thomas Scully threatened to fire him. (As it was, then House Majority Leader Tom Delay twisted arms and extended debate on the bill by hours to coerce recalcitrant Republicans, a move for which he was later admonished by a House Ethics panel.) Fast forward two years and the estimated 10 year price tag for the Medicare prescription plan now exceeds $720 billion for its 43 million beneficiaries.
Meanwhile, the Republican faith-based belief in the health care marketplace and consumer-driven health care threatens Medicaid, the nation's insurance program for the poor. As I wrote in "Medicaid's Fort Sumter," South Carolina is at the forefront of the effort to shed expenses - and beneficiaries - from Medicaid:
Now, the Palmetto State is again leading the way, this time by undermining Medicaid, the federal health care program for low income Americans. By seeking to move from a system of "guaranteed benefits" to one of "guaranteed contributions", South Carolina's step is the opening salvo in the war over social insurance.
As AP reported today, South Carolina seeking to dramatically overhaul its Medicaid program, one which currently serves 850,000 residents. Dealing with a program that already consumes 19% of the state budget (and estimated to rise to 29% in a decade), South Carolina has proposed moving to a system of health care accounts instead. These accounts would allow recipients to purchase private insurance or pay for care directly. State payments to the accounts would be based on the recipient's age, gender and physical condition.
Limitations of the Consumer-Driven Health Care Model
All of which serves to highlight the growing dangers to Americans' health and safety posed by the growing conservative religion of "consumer driven health care" (CDHC).
From "Unhealthy Trends:"
This trend is greeted with enthusiasm by the advocates of consumer-driven health care (CDHC) in the Bush White House and its conservative amen corner like the Wall Street Journal. They encourage new market-based approaches like tax-deductible health care accounts, which allow individuals and families to save towards health expenditures, rolling over unused funds from year-to-year. Cost-conscious health care consumers, they contend, will drive down costs by optimizing their "purchasing decisions" and avoiding unnecessary treatment.
CDHC detractors, however, argue that medical savings accounts and similar plans supported by employers will neither curb costs nor provide for healthier Americans. Arnold Relman of the Harvard Medical School in a stinging critique of the CDHC model rejects the model of patient and provider meeting as equals in the marketplace for health care, arguing:
"...Our health policies have failed to meet national needs because they have been heavily influenced by the delusion that medical care is essentially a business. This delusion stubbornly persists, and current proposals for a more "consumer-driven" health system are likely to make our predicament even worse."
Robert Reischauer, president of the Urban Institute and vice chair of the Medicare Payment Advisory Commission concluded bluntly "this trend will shift more of the costs of health care onto the sick, especially those with chronic conditions, larger families, and older workers and reduce the burden on the young, the healthy and singles."
Which is exactly what appears to be taking place. In one the first evaluations of consumer-driven health care plans, a joint study by the Employee Benefit Research Institute and the Commonwealth Fund found much lower satisfaction, higher costs and more missed health care with CDHC plans than traditional employer health packages. Americans utilizing new high-deductible CHDC health plans such as health savings accounts (HSAs) and health reimbursement accounts (HRAs) experienced dramatically higher out-of-pocket costs, with over a third paying more than 5% of their income towards health-related expenses, versus just 12% of those in traditional plans. Worse still, CDHC participants, especially those making under $50,000 a year, were much more likely (35% versus 17%) to skip or defer needed health care. The key to the new wave of consumer-driven plans, it would seem, is to be healthy, wealthy and lucky.
Perrspectives has more on the limitations of the consumer-driven health care model in "When Markets Attack." And Harvard's Relman offers a detailed critique and proposals for reform in his new book, A Second Opinion: Rescuing America's Health Care.
State Universal Health Care Mandates
With election 2008 approaching, voters and presidential candidates alike are paying more attention to universal coverage initiatives mandating insurance in Massachusetts, California and Oregon.
In "Health Care Monopolies and the Massachusetts Model," Perrspectives looked at the impact of increased consolidation and the entrenchment of health insurance monopolies on state mandated personal health insurance coverage:
On its face, the Massachusetts law seems like an innovative approach to providing health care coverage for all. Akin to auto insurance, all residents must acquire coverage, either through their employer, in the private market, or at lower-income levels, through state-subsidized programs. Residents must further show proof of coverage with their state income tax returns, or face fines. To pay for it, the state will redirect the $1 billion it spends annually on emergency treatment for the uninsured towards subsidized programs from a range of insurers.
Which brings us to the AMA report and the cloud it casts over the much-hyped Massachusetts model. In most states, the AMA concludes, the idea of choice among competing insurance providers is a myth. The study showed that in each of 43 states, a small group of insurers exerts such market dominance as to merit the Justice Department "highly concentrated" market methodology for assessing potential anti-trust action. In 166 of 294 metropolitan areas surveyed, a single insurer controls over half the preferred provider network and HMO underwriting. In North Dakota, for example, Blue Shield owns 90% of the market. It's no wonder that Jim Rohack, an AMA trustee, concluded "This problem is widespread across the country, and it needs to be looked at."
That's especially the case if other states are serious about adopting the Massachusetts model. Without a choice of providers, mandatory insurance plans have no mechanism to help states rein in costs for their taxpayers-turned-health care subscribers. The insurers growing market power means they can dictate both coverage terms and prices. 400 mergers in the past decade have helped fuel out-of-control health care costs, which rose at a double-digit clip from 2001 to 2004, three to four times the overall rate of inflation. The implications for middle class resident on their own in the health care marketplace are worrisome, to put it mildly.
For more coverage of the American health care system, visit the Perrspectives health care archives.